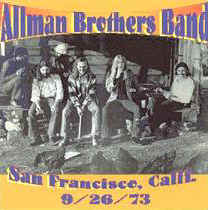 The Allman Brothers Band - Winterland Ballroom
San Francisco, Ca. - September 26, 1973 - CD-R2 - SB 5

Comments: From FM, unknown generation, good sound. Incomplete as the full broadcast was 180 minutes according to most sources - there is a 3CD set out there somewhere! "In Memory of Elizabeth Reed" was taken from this performance for the "Wipe the Windows" LP.