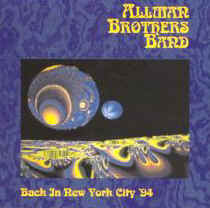 The Allman Brothers Band - Back in NYC 1994
Beacon Theatre, NYC - April 1, 1994 - Meteor Front Row FRONT FM 2101-03 - Aud 5

Disc 1:
1) Sailing Across the Devil's Sea
2) Statesboro Blues
3) Blue Sky
4) All Night Train
5) Same Thing
6) Soulshine
7) Seven Turns
8) Jessica
9) Midnight Rider

Disc 2:
1) Temptation is a Gun
2) One Way Out
3) Change My Way of Living
4) You Don't Love Me
5) Dreams
6) Back Where it All Begins

Disc 3:
1) In Memory of Elizabeth Reed
2) No One Left to Run With Any More
3) Whipping Post

Geetarz Comments:
- Incredible performance! The set starts out with a blistering version of "Sailing Across the Devil's Sea" - great percussion and drums.
- "Jessica" is a stunner, with the whole band on fire - Dickey's solo break at 5:30 is killer - and the audience knows it!
- Warren Haynes' solo break after the chorus in "No One left to Run With" is a stunner, too - this guy must have been born with a slide in his hand!

Easily one of the best ABB shows I've ever heard - recomended!
Visitor Comments: "I agree with the review already posted. This is an audience recording but the sound is fantastic. This is also one of the longest ABB shows ever. Well over 3 hours, almost 4 hours long. We get "ALL" of the jam songs they were doing at the time, Dreams, Liz Reed, Jessica, Whipping Post." - Anon