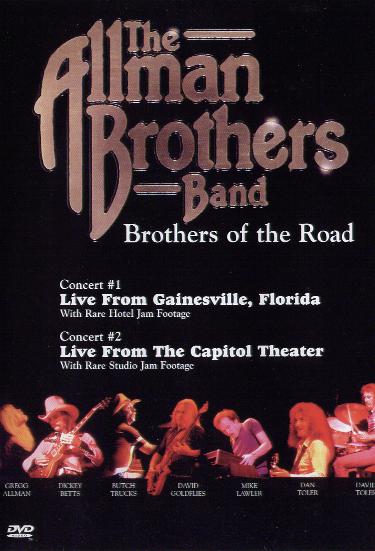 The Allman Brothers Band - Brothers of the Road
Image Entertainment - ID4700LTDVD - 113 min.

Geetarz Comments: Includes performances from Gainesville, Florida (October 26, 1980) and New York City's Bottom Line (December 16, 1981). Also included are rare footage of a hotel room jam session and a peek at a private "unplugged" style recording session at a studio. Audio and video quality are excellent, especially considering the age of the footage.
"I SAW THIS DVD ON THE INTERNET AND AFTER NEVER SEEING THEM LIVE, I WAS ABSOLUTELY STUNNED TO SEE THAT THEY WERE BETTER LIVE THAN ON CD RECORDING. THIS DVD IS TIMELESS AND HAS REALLY GOOD QUALITY OF BOTH SOUND AND VIDEO. I WAS SO HAPPY TO SEE THAT THE BEST GUITARIST IN THE WORLD, DAN TOLER, WAS ON THIS DVD. GREGG ALLMAN INTRODUCED AN INCREDIBLE SONG CALLED "I NEVER KNEW HOW MUCH I NEEDED YOU" DURING THE FLORIDA CONCERT. THIS WHOLE DVD WAS NOTHING SHORT OF LIVE MUSIC AT IT'S BEST AND WILL CONTINUE TO KEEP MY DREAMS ALIVE.
- Anonymous