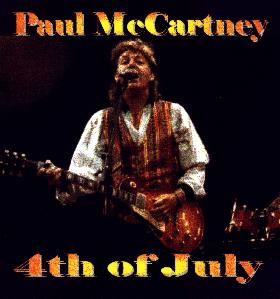 4th of July
Recorded at RFK Stadium, Washington, D.C. on July 4, 1990 - 3BR Records - nun - sb6

Disc 1:

Birthday
Band on the Run (part 1)
Band on the Run (part 2)
We Got Married
Let Em In
The Long and Winding Road
Fool on the Hill
Sgt. Pepper's Lonely Hearts Club Band
Good Day Sunshine
Can't Buy Me Love
Put it There
Things We Said Today
Eleanor Rigby
This One
Disc 2:

My Brave Face
Back in the U.S.S.R.
I Saw Her Standing There
Coming Up
Let it Be
Live and Let Die
Hey Jude
Yesterday
Get Back
Golden Slumber / Carry That Weight
Hope of Deliverance
Comments: Great live show, to celebrate Independance Day in the U.S.