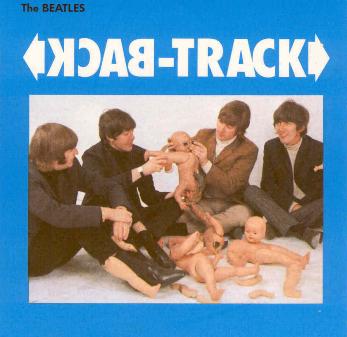 The Beatles - Back Track
Box Top - BT6267 - SB 5

Track List:
1) Besame Mucho
2) How Do You Do It
3) I Saw Her Standing There
4) There's a Place
5) There's a Place
6) Misery
7) The One After 909
8) From Me To You
9) Can't Buy Me Love
10) A Hard Day's Night
11) Leave My Kitten Alone
12) She's a Woman
13) If You Got Trouble
14) I'm Looking Through You
15) Norwegian Wood (2 takes)
16) Norwegian Wood
17) We Can Work it Out
18) Day Tripper
19) Day Tripper
20) Paperback Writer
21) Strawberry Fields Forever
22) Penny Lane
23) The Fool On the Hill
24) I Am the Walrus
25) That Means a Lot
26) Do You Want to Know a Secret
27) Aerial Tour Instrumental

Note: This disc combines the Swingin' Pig's Ultra Rare Trax 1 and Ultra Rare Trax 2 onto one disc, and sorts the tracks in a more logical order. The sound quality is a clone of the Pig's discs, and this was an outstanding compilation at the time of it's release - in fact, more preferred to many collectors over the Pig's URT. It was the recordings on this disc that turned the legit world on it's ear to recognize how bootlegs had grown up...literally, the record industry would never be the same again. Funny how the Beatles did that twice...once on their own, again via the bootlegs.