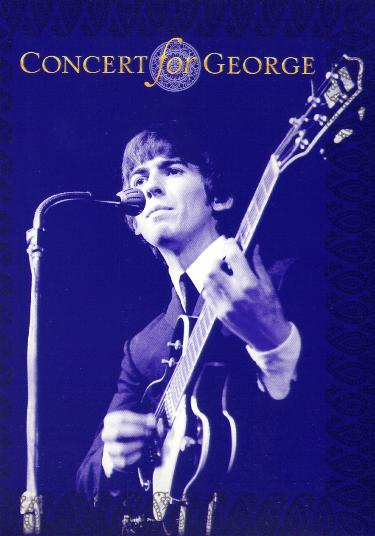 Concert For George
London, England - November 29, 2002 - R2 970241 - 280 min.

Comments: A tribute to the life and music of George Harrison under the musical direction of Eric Clapton. 2-DVD edition features both the complete concert as well as the theatrical release version with extra bonus material including interviews and rehearsal footage.
Random Thoughts:
- It was quite sneaky of Eric to play along during the Indian music session so we won't all fast forward through it like we did during "Concert for Bangla Desh".
- Is Andy Fairweather-Low the new Minnie Pearl of rock music, or did he simply forget to take the price tag off the tuners of his Fender Electric XII?
- Could it be that EC is wearing the same shirt he wore on the 2001 tour, one of his "fat" shirts? Hard to believe this guy of all people would allow himself to be seen in public more than once wearing the same thing - especially something that looks like it probably came from the bargain bin at Target!
- Basically this was about as close as you can get to a reunion of EC's early 1980s touring band. It's a Pity ... that Albert Lee wasn't allowed to step out a little more!
- Speaking of fashion, Eric must not have auctioned off all his old clothes - it looks as if he loaned Billy Preston the suit he wore at the 1987 Prince's Trust Concert!
- Last but certainly not least, pay attention to the crowd shot after "I Don't Know". How does she DO that? *grin*