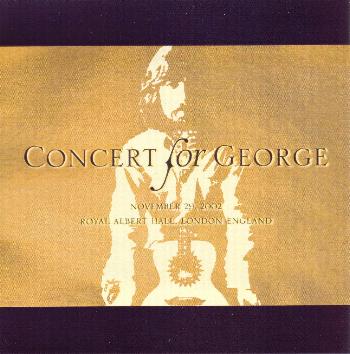 Concert for George
London, England - November 29, 2002 - Masterport-142 - Aud 3

Disc 1:

Introduction by Ravi Shankar and Eric Clapton
Original Ravi Shankar Composition
The Inner Light - featuring Jeff Lynne
Original Ravi Shankar Composition
I Want to Tell You - Jeff Lynne
If I Needed Someone - Jeff Lynne / Eric Clapton
Old Brown Shoe - Gary Brooker / Eric Clapton
Give Me Love - Jeff Lynne
Beware of Darkness - Eric Clapton
Disc 2:

Here Comes the Sun - Joe Brown and Dhani Harrison
That's the Way it Goes - Joe Brown, Jools Holland and Tom Scott
Horse to the Water - Sam Brown
Taxman - Tom Petty and the Heartbreakers
I Need You - Tom Petty and the Heartbreakers
Handle With Care - Tom Petty, Jeff Lynne and Billy Preston
Isn't It a Pity - Eric Clapton and Billy Preston
Photograph - Ringo Starr
Honey Don't - Ringo Starr
For You Blue - Paul McCartney
Something - Paul McCartney
All Things Must Pass - Paul McCartney and Jeff Lynne
While My Guitar Gently Weeps - Eric Clapton
My Sweet Lord - Billy Preston
Wah Wah - Jeff Lynne and Eric Clapton
See You in My Dreams - Joe Brown
Comments: Masterport release has disc times of approximately 61:22 and 79:59, depending on the player. Nice audience recording, especially considering that the Albert Hall is not known for good audience recordings! A fantastic document of a very special evening, the highlight of which (at least for me) is a ferocious "Wah Wah" - killer drums!