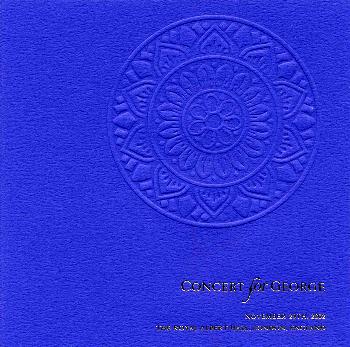 George's Wife Dhani
London, England - November 29, 2002 - Mid Valley 172 / 173 - Aud 3

Disc 1:

Introduction
Eric Clapton Introduction
Ravi Shankar Introduction
Indian Music Performance
Indian Music Performance (with Jeff Lynne)
Indian Music Performance (with Eric Clapton on Guitar)
Sit on My Face (The Lumberjack Song) - Monty Python
I Want to Tell You - Jeff Lynne
If I Needed Someone - Jeff Lynne / Eric Clapton
Old Brown Shoe - Gary Brooker / Eric Clapton
Give Me Love - Jeff Lynne
Beware of Darkness - Eric Clapton
Here Comes the Sun - Joe Brown
Disc 2:

That's the Way it Goes - Joe Brown
Horse to the Water - Sam Brown
Taxman - Tom Petty and the Heartbreakers
I Need You - Tom Petty and the Heartbreakers
Handle With Care - Tom Petty and Jeff Lynne
Isn't It a Pity - Eric Clapton and Billy Preston
Photograph - Ringo Starr
Honey Don't - Ringo Starr
For You Blue - Paul McCartney
Something - Paul McCartney
All Things Must Pass - Paul McCartney and Jeff Lynne
While My Guitar Gently Weeps - Eric Clapton
My Sweet Lord - Billy Preston
Wah Wah - Jeff Lynne and Eric Clapton
See You in My Dreams - Joe Brown
Comments: Typical high quality Mid Valley treatment of an amazing event. Sound quality is not great, but the best that can be expected in the Albert! The title is derived from Eric Clapton's slip of the tongue, referring to "George´s Wife Dhani" (Dhani is George's son). Not only must EC have been mortified to make the slip, now the folks at Mid Valley have chosen to skewer the poor man for it, as if he probably didn't feel bad enough! Disc times are 75:29 and 76:22.