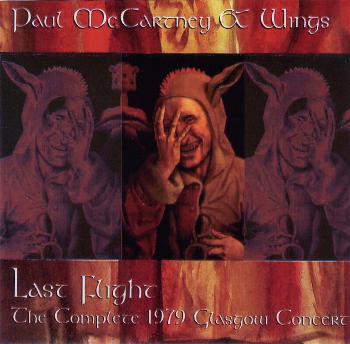 Paul McCartney and Wings - Last Flight
Glasgow, Scotland - December 17, 1979 - Vigotone - VT-164/165 - SB 5

Disc 1:

Got to Get You Into My Life
Getting Closer
Every Night
Again and Again and Again
I've Had Enough
No Words
Cook of the House
Old Siam, Sir
Maybe I'm Amazed
The Fool On the Hill
Let it Be
Hot As Sun
Spin it On
Twenty Flight Rock
Go Now
Arrow Through Me
Wonderful Christmastime
Disc 2:

Coming Up
Goodnight Tonight
Yesterday
Mull of Kintyre
Band on the Run
Got to Get You Into My Life (*)
Every Night (*)
Coming Up (*)
Lucille (*)
Let it Be (*)
Rockestra Theme (*)
Comments: Last Flight is a 2CD set of the complete performance the final incarnation of Wings played at the Apollo Theatre in Glasgow, Scotland om December 17, 1979. These are the very tapes McCartney himself recorded for a possible live album of which only "Coming Up" has appeared. (*) Bonus tracks on Disc 2 are from the Concerts for the People of Kampuchea LP.