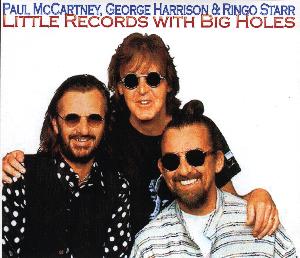 Little Records With Big Holes
Various - 3BR Records - nun - SB 6

Disc 1: McCartney

Message
The Long and Winding Road
Lovliest Thing
Rough Ride
Ou Est le Soleil
Mama's Little Girl
Same Time Next Year
Party, Party
P.S. Love Me Do
The First Stone
I Wanna Cry
Flying to My Home
Birthday
Good Day Sunshine
P.S. Love Me Do
Let 'Em In
All My Trials
C Moon
Put it There
(1-12: Singles from "Flowers in the Dirt"; 13-19: Singles from "Tripping the Live Fantastic")
Disc 2: McCartney

Long Leather Coat
Keep Coming Back to Love
Sweet Sweet Memories
Things We Said Today (*)
Midnight Special (*)
Style Style
I Can't Imagine
Cosmically Conscious
Kicked Around No More
Big Boys Bickering
Down to the River
Soggy Noodle
I Love This House
Looking For You
Broomstick
Atlantic Ocean
Don't Break the Promise
(1-12: Singles from "Off the Ground", '*' are live outtakes from "Unplugged"; 13-17: Singles from "Flaming Pie"
Disc 3: McCartney / Harrison / Starr

Squid
Love Came Tumbling Down
Beautiful Night
Same Love
Love Mix
Looking For Changes
Peace in the Neighborhood
Mother Nature's Son
Off the Ground
How Many People
Zig Zag
Runaway
Nobody's Child
With a Little Help From My Friends
Life Goes On
Don't Be Cruel
Everybody Wins
Mr. Doubleitup
Good News
Comments: From the liner notes: "Paul, George and Ringo have released numeros non-album tracks on their singles over the years. Paul, especially, has produced virtually 3 albums' worth of material for each of his '90s albums. So here's a collection of singles and b-sides from a whole cache of releases by the Fab Three since 1989 - we bought them, so you don't have to!