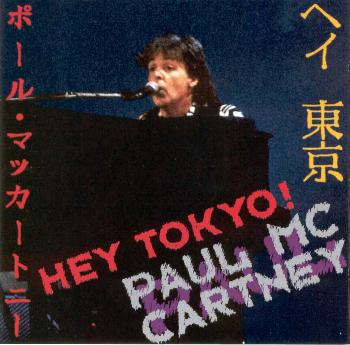 Hey Tokyo!
Tokyo, Japan - November 12, 1993 - KTS - KTS 250 - SB 6

Track List:
1) Matchbox
2) Just Because
3) Good Rockin' Tonight
4) Be Bop a Lula
5) Midnight Special
6) C Moon
7) The Long and Winding Road
8) Lindy Lu
9) Twenty Flight Rock
10) Let Me Roll It
11) We Can Work it Out
12) Lady Madonna
13) Mgical Mystery Tour
14) Live and Let Die
15) Paperback Writer
16) Back in the USSR
17) Hey Jude

Note: a hot, hot soundboard. Watch the levels on this one! It kicks right in with an agressive performance of 'Matchbox' that is more 'rock' then 'rockabilly'! Also features a nice performance of "Magical Mystery Tour", with very nice piano work. 'Live and Let Die' is very well done, but the mix is unaccountably muddy as the other songs are very clear. The cover art denotes that this was a soundcheck performance, applause was added in later, either by bootleggers or production staff.