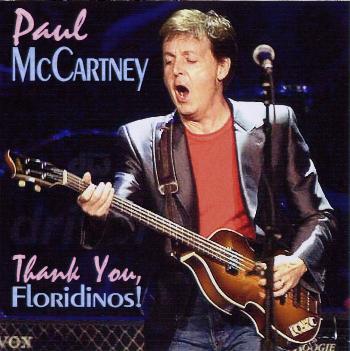 Paul McCartney - Thank You Floradinos
Ice Palace - Tampa, Florida - May 15, 2002 - 3BR Records - 3BR 192 - SB 5

Disc 1:

Hello Goodbye
Jet
All My Loving
Getting Better
Coming Up
Let Me Roll It
Lonely Road
Driving Rain
Your Loving Flame
Blackbird
Every Night
We Can Work it Out
Mother Nature's Son
Vanilla Sky
You Never Give Me Your Money
Carry That Weight
The Fool on the Hill
Here Today
Something
Eleanor Rigby
Disc 2:

Here There and Everywhere
Band on the Run
Back in the USSR
Maybe I'm Amazed
C Moon
My Love
Freedom
Live and Let Die
Let it Be
Hey Jude
Long and Winding Road
Lady Madonna
I Saw Her Standing There
Yesterday
Sgt. Pepper Reprise / The End
Comments: This mono recording was made from an ALD feed. One song, "Can't Buy Me Love", is deleted as the source recording was damaged. "Freedom" had one chorus edited due to ALD drop-outs. Otherwise, the only changes to this this recording have been frequency response and sonics restoration by the Professor - remastered in July, 2002.