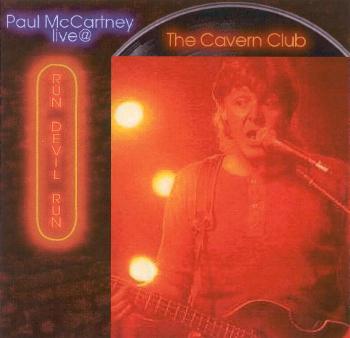 Paul McCartney - Live at the Cavern
Liverpool, England - 14 December 1999 - 3BR Records - 3BR119 - SB 6+


Track List:
1) Honey Hush
2) Blue Jean Bop
3) Brown Eyed Handsome Man
4) Fabulous
5) What It Is
6) Lonesome Town
7) Twenty Flight Rock
8) No Other Baby
9) Try Not to Cry
10) Shake a Hand
11) All Shook Up
12) I Saw Her Standing There
13) Party
14 - 18) Interviews



Note: Yet another fine effort from the folks at 3BR! Originally sourced from a German radio broadcast, this recording has undergone a serious sonic overhaul and is now a great listen, lots of dynamics. Don't be fooled by amateur efforts - to date, most of the recordings of this show in circulation are sourced from the inferior webcast in mono, and just don't stack up. You'd be hard pressed to come across this material in better quality than found in this release.

Of course, it helps that this band is on fire - a dead-on performance by Macca is backed by a great band, including David Gilmour on guitar. From the beginning, the band takes off like a jet fighter in full afterburner with an incendiary performance of "Honey Hush" featuring great, in-your-face rockabilly guitar and a driving bass line. This isn't pop music - it's down and dirty, in your face ROCK AND ROLL. An energetic version of Gene Vincent's "Blue Jean Bop" precedes a novel rework of Chuck Berry's classic "Brown Eyed Handsome Man". The band roar through "Fabulous" and "What it Is", slowing things down just a bit with a sweet version of "Lonesome Town". A hot rockabilly version of "Twenty Flight Rock" precedes a hypnotic version of "No Other Baby" with perfect guitar work and impassioned vocals by Macca - a standout track on a disc of standout performances. The intimate venue gives Macca a chance to banter with the crowd a bit between songs, but the band kicks right back into gear with a funky version of "Try Not to Cry", veering right into a version of "Shake a Hand" featuring a great honky-tonk piano solo by Pete Wingfield. Following a rockin' version of "All Shook Up", the band kicks into "I Saw her Standing There" with a vengeance, full of fire. "Party" provides a great finale, no holding back on this one. Interview segments provide some nice, if nonessential, filler at the end.

It's recordings like this that make collecting worthwhile - highly recommended!