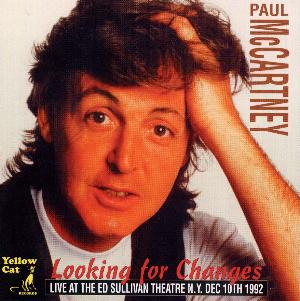 Looking for Changes
Ed Sullivan Theater, NYC - December 10, 1992 - Yellow Cat - YC003 - SB 6

Track List:
1) 20 Flight Rock
2) Get Out of My Way
3) Fixing a Hole
4) Looking for Changes
5) Penny Lane
6) Biker Like an Icon
7) I Owe It All to You
8) Big Boys Bickering
9) Michelle
10) Jingle Bells
11) Hope of Deliverance
12) Can't Buy Me Love
13) Peace in the Neighborhood
14) Off the Ground
15) I Wanna Be Your Man
16) My Love
17) C Moon
18) Lady Madonna
19) C'Mon People
20) Live and Let Die

Note: Recorded at the Legendary Ed Sullivan Theater where the Beatles made their historic performance, this was a live performance recorded for the show "Up Close". Great performance, and everybody is having fun, Macca spends lots of time bantering with the audience. Complete except for "Sergeant Pepper's", which can be found on Big Mac's Live Tracks. Recommended.