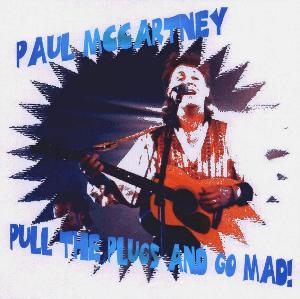 Pull the Plug and Go Mad!
Limehouse Studios, London - January 25, 1991 - 3BR Records 3BR 874 - CD-R2 - SB 6

Disc 1:

Introduction
Be Bop a Lula
Mean Woman Blues
Matchbox
Midnight Special
I Lost My Little Girl
Here, There, And Everywhere
San Francisco Bay Blues
Blue Moon of Kentucky
We Can Work it Out (false start)
We Can Work it Out (false start, 2)
We Can Work it Out
I've Just Seen a Face
Every Night
She's A Woman
Disc 2:

And I Love Her
The Fool
Things We Said Today
That Would Be Something
Blackbird
Hi-Heel Sneakers
Good Rockin' Tonight
Singing the Blues
Junk
Ain't No Sunshine
Comments: Years in the making, painstakingly compiled from six different sources - remastered, tweaked, wowed, fluttered, eq'd, chopped, peeled, sliced, diced, pounded on with a hammer and sacrifices made to the audio gods - this is it, the definitive, no-holds-barred set to have of Macca's Unplugged session. An essential cornerstone of any core collection.