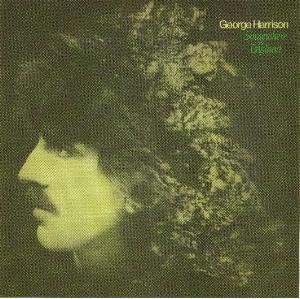 Somewhere in England
Various - Pegboy 1005 - SB 6

Track List:

Hong Kong Blues
Writing on the Wall
Flying Hour
Lay His Head
Unconsciousness Rules
Sat Singing
Life Itself
Tears of the World
Baltimore Oriole
Save the World
Everybody's Trying to Be My Baby
Your True Love
George and Carl in Discussion
The World is Waiting for the Sunrise
That's Alright
Blue Moon of Kentucky
Night Train to Memphis
Amen
Glad All Over
Whole Lotta Shakin' Goin' On
Gone, Gone, Gone
Blues Suede Shoes
Blues Suede Shoes (reprise)
Comments: Tracks 1-10 are the original rejected version of Somewhere In England from reel-to-reel (7.5 ips quarter track) supplied to Warner for in-house advance-release promo use. Tracks 11-23 are George performing with Carl Perkins, Ringo Starr, Eric Clapton, Dave Edmunds and friends for the "Rockabilly Session" Video on 21 October 1985. Track 24 is George with Carl Perkins and his band at a Handmade Films party. Track 25, George live with Denny Laine, Robert Plant and members of ELO & The Moody Blues at the Heartbeat Concert in Birmingham, England on March 15, 1986.
Interesting enough to hear Harrison's intended album, as delivered to Warner Brothers. Love it or leave it, it's a unique insight into what he intended!