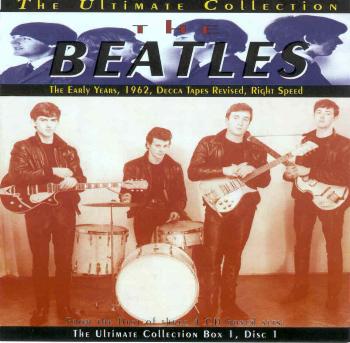 The Ultimate Collection - Box 1, Disc 1: The Early Years
1962 - Yellow Dog - SB 6

Track List:

Like Dreamers Do
Money (That's What I Want)
'Till There Was You
The Sheil of Araby
To Know Her is to Love Her
Take Good Care of My Baby
Memphis, Tennessee
Sure to Fail (In Love With You)
Hello Little Girl
Three Cool Cats
Crying, Waiting, Hoping
Love of the Loved
September in the Rain
Besame Mucho
Searchin'
I Saw Her Standing There
The One After 909
The One After 909
Catswalk
Catswalk
Some Other Guy
Comments: The Early Years, 1962 - Decca Tapes Revised (Correct Speed). Tracks 1-15 recorded Monday, January 1, 1962, Decca Studios, London. Tracks 16-20: Rehearsal early 1962 at the Cavern Club, Liverpool. Track 21: Declicked acetate (bonus track).