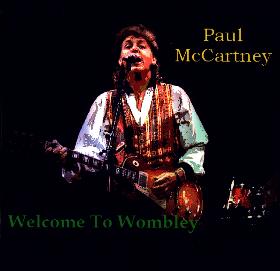 Welcome to Wombley
Recorded at Wembley Stadium, London on January 16, 1990 - 3BR 137 - sb6

Disc 1:

Figure of Eight
Jet
Rough Ride
Got to Get You Into My Life
Band on the Run
Ebony and Ivory
We Got Married
Maybe I'm Amazed
The Long and Winding Road
The Fool on the Hill
Sgt. Pepper's Lonely Hearts Club Band
Good Day Sunshine
Can't Buy Me Love
Put it There
Things We Said Today / Robbie's Solo
Disc 2:

Eleanor Rigby
This One
My Brave Face
Back in the USSR
I Saw Her Standing There
Twenty Flight Rock
Coming Up
Let it Be
Ain't That a Shame
Live and Let Die
Hey Jude
Yesterday
Get Back
Golden Slumbers/Carry That Weight/The End
Comments: A remastered and tweaked version of the Voxx release of the same name, this one is far superior in audio quality. Voxx doesn't process their tapes at all, so the difference is night and day. You actually realize on this release that there is a bass player present! Recommended.