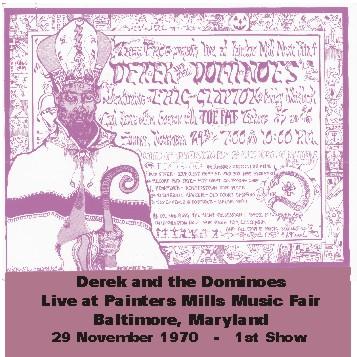 Derek and the Dominos - Painter's Mill Fair
Owings Mills, Maryland - November 29, 1970 - CD-R2 - Aud 2

Disc 1:
1) Layla
2) Bell Bottom Blues
3) Blues Power
4) Stormy Monday
5) Tell the Truth
Disc 2:
1) Got to Get Better in a Little While
2) Little Wing
3) Why Does Love Got to Be So Sad
4) Have You Ever Loved a Woman
5) Let it Rain


Note: some nice digital cleanup work has removed hiss and made this quite listenable. Interesting from a historical perspective, this is one of the few times "Layla" was performed live by the Dominos. In the summer of 2001 the webmaster was contacted by the gentleman who was the stage manager for this show, who for all of 31 years was unaware that a recording of it was made. This gentleman kindly made the CD cover for the show, which is taken from a facimile of the extremely rare promotional poster for the show, of which only 200 were made. In this case, the poster is probably cooler than the recording - Thanks!