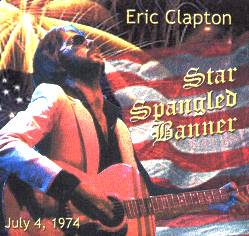 Eric Clapton - Star Spangled Banner
Columbus, Ohio - Geetarz 014/015 - CD-R2 - SB 5

Disc 1:
1) Easy Now
2) Smile
3) Let it Grow
4) Can't Find My Way Home
5) Band Intros
6) Key to the Highway
7) Willie and the Hand Jive / Get Ready
8) Little Wing (inc.)
Disc 2:
1) Little Wing (cont'd)
2) Mainline Florida
3) Layla
4) Presence of the Lord
5) Badge
6) Little Queenie
7) Crossroads

Note: "Little Wing" is split between disc 1 and 2 (gap in source tape). Lineage: Master Reel > DAT > Mastered to CD-R by Geetarz.
As far as "drunken Eric" shows go - this is the best I've heard. Quips include:
"We're In Tune!"
(introducing 'Smile') "This is a song written by Charlie Chaplin - and it that ain't good enough for you ... it's good enough for me"
"This is from me new album ... it ain't that expensive"
"I belong to Glasgow"
"This is me band ... and if they aren't good enough for you ... " (Eric seemed to like that phrase a lot) " ... I'll FIRE THE LOT OF THEM!"
"How come he gets all the fucking birds?"
(introducing the band) "and my name is ... ROBERT JOHNSON"
Best of all: While the band plays "Little Queenie", Eric sings the "Star Spangled Banner" - horribly out of key!
However, this is my favorite performance from the 1974 tour - incredible version of Little Wing, pity about the gap on the source tape...
Note: Thanks to Cheryl Donatto for making cover art!