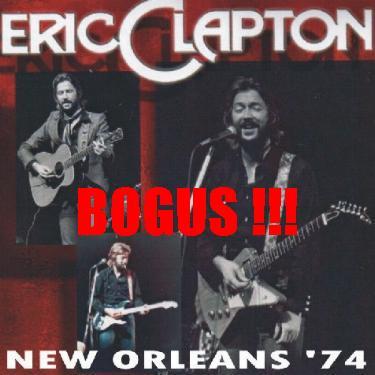 WARNING! Do Not Use this art!!!!
Eric Clapton - City Park Stadium
New Orleans, La. - July 30, 1974 - CD-R2 - SB 5


Disc 1:

Smile
Easy Now
Let it Grow
I Shot the Sheriff
Layla
Little Wing
Willie and the Hand Jive
Get Ready
Badge
Disc 2:

Can't Find My Way Home
Driftin' / Ramblin' On My Mind
Let it Rain
Presence of the Lord
Crossroads
?
Little Queenie
Comments: This show making the rounds in trading circles is NOT the New Orleans show, and in fact, anyone who does trade out this show thinking it is such is A STUPID FUCKING MORON. Why? Because it is a copy (and a poor one, at that) of the oft-booted July 20, 1974 show from Long Beach, California. Portions of this show were used on the official "EC is Here" live album, and anyone who can't recognize those songs should not be trading shows in the first place, but instead listening to the official releases! The authentic New Orleans show is not a soundboard but instead a (poor) audience recording, with a quite different setlist. Beware not only this recording but anyone who lists it in their collection, because they cannot be trusted!