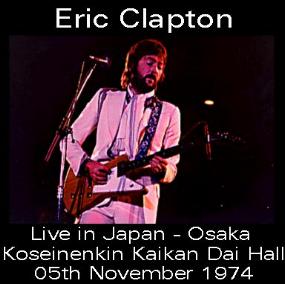 Eric Clapton - Live in Osaka
Koseinenkin Kaikan Dai Hall, Osaka, Japan - November 5, 1974 - lun - SB 5

Disc 1:

1) Let it Grow
2) Can't Find My Way Home
3) Better Make It Through Today
4) Tell the Truth
5) Drifting Blues
6) Get Ready
7) Let it Rain
Disc 2:

1) Layla
2) Presence of the Lord
3) I Shot the Sheriff
4) Badge

Note: A bit of tape hiss,the bass is too prominent in the mix. Interesting vocal harmonies on "Badge" - the band members all manage to be out of tune at the same time, it's a bit painful to listen to. Nice B3 though.