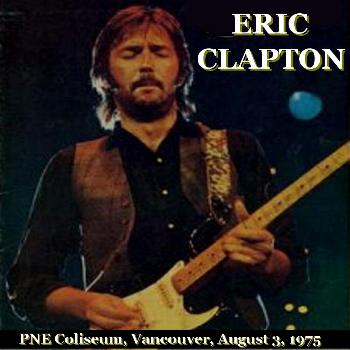 Front Cover
Back Cover
Eric Clapton - PNE Coliseum
Vancouver, Canada - August 3, 1975 - CD-R2 - Aud 4
Disc 1:
Layla
The Sky is Crying
Knockin' On Heaven's Door
Blues Power (outro) (*)
Can't Find My Way Home
Carnival
Disc 2:
Better Make it Through Today
Tell the Truth
I Shot the Sheriff
Little Wing
Eyesight to the Blind > Encore Jam (with Carlos Santana)
These CDs were recorded straight from the taper's master cassettes, and are of far better quality than those found on commercial bootleg recordings. It's a nice sounding audience recording, very listenable.

Please note that some sources incorrectly list D1T3 as an unreleased instrumental while it is in fact the finale of "Blues Power".