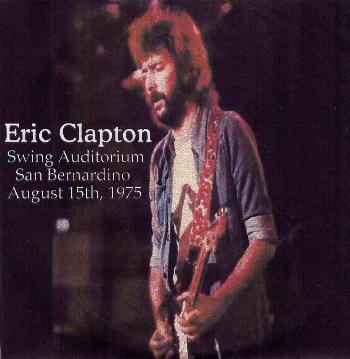 Eric Clapton - Swing Auditorium
San Bernardino, Ca. - August 15, 1975 - CD-R2 - Aud 4

Disc 1:

Layla
Bell Bottom Blues
Knockin' On Heaven's Door
The Sky is Crying
Keep on Growing
Can't Find My Way Home
Further On Up the Road (*)
Stormy Monday (*)
Disc 2:

Teach Me to Be Your Woman
Carnival
Tell the Truth
Steady Rollin' Man (**)
Crossroads
Comments: (*) Jerry McGee appears on "Further On Up the Road" and "Stormy Monday". (**) Carlos Santana appears on the encore. Excellent rendition of "Keep On Growing" is marred by a small "skip" that apparently was present in the digital source - otherwise a nice, listenable audience recording.