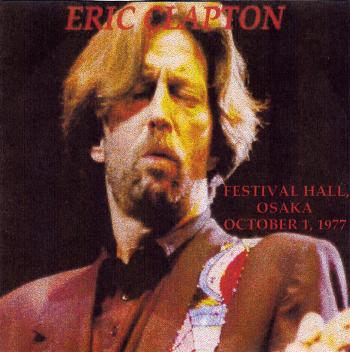 Eric Clapton - Festival Hall
Osaka, Japan - October 1, 1977 - CD-R2 - Aud 2

Disc 1:

The Core
Blues Power
Have You Ever Loved a Woman
Blues With a Feeling
One Night
Nobody Knows You
Sign Language
Alberta
Tell The Truth
Disc 2:

Double Trouble
Layla
Bottle of Red Wine
Key to the Highway
Hello Old Friend
Sign Language
Badge
Knocking on Heaven's Door
Home Lovin'
Can't Find My Way Home
Comments: A thouroughly miserable audience recording, noteworthy only for its historical value and of interest only to compleatists. Bonus material on disc 2 is Dallas, Texas on November 15, 1976 from Radio promo LP. Cover art is incorrect and does not accurately reflect track listing.