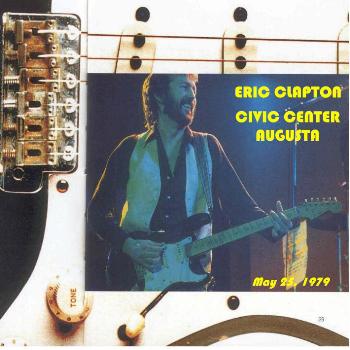 Eric Clapton - Civic Center
Augusta, Maine - May 25, 1979 - CD-R1 - Aud 4

Track List:

Badge
If I Don't Be There By Morning
It's Too Late
Double Trouble
Tulsa Time
Motherless Children
Early in the Morning
Setting Me Up
Sweet Little Liza (Albert Lee)
Watch Out for Lucy
Lay Down Sally
Wonderful Tonight
Cocaine
Layla
Further On Up the Road
Comments: This is a surprisingly nice audience recording, with the instruments souding up close, and only the vocals sounding somewhat distant. Not exactly a fiery performance, but certainly one will find some tasty work here, including an all-too-rarely performed "It's Too Late". Perhaps the best performance of the evening is Albert Lee's take on the Dire Straits classic "Setting Me Up".