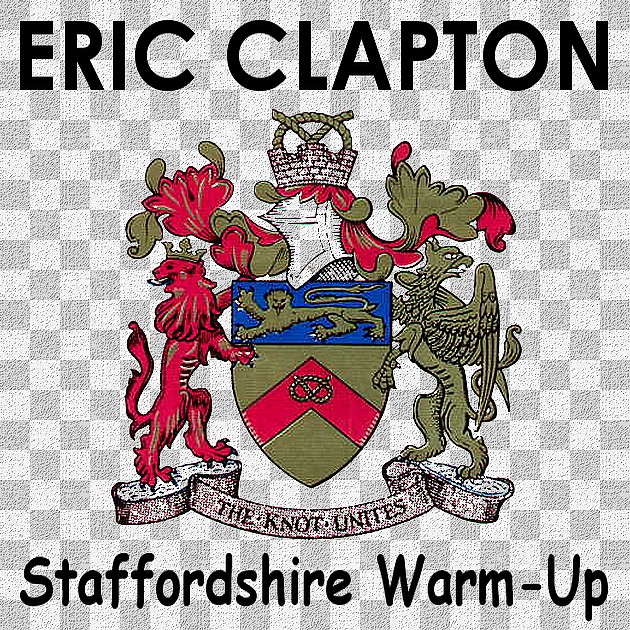 Front Cover
Back Cover
Eric Clapton - Victoria Hall
Staffordshire, England - September 30, 1979 - CD-R2 - Aud 3

Disc 1:
Badge
Worried Life Blues
Blue Skies ("If I Don't Be There By Morning")
Tulsa Time
Early in the Morning
Watch Out For Lucy
Wonderful Tonight
Setting Me Up (Albert Lee)
La la la
Lay Down Sally

Disc 2:
All Our Past Times
Double Trouble
After Midnight
Knockin' On Heaven's Door
Country Boy (Albert Lee)
Key to the Highway
Cocaine
Further On Up the Road
Blues Power

Band Lineup:
Eric Clapton Guitar, Vocals
Albert Lee Guitar, Vocals
Dave Markee Bass
Henry Spinetti Drums
Chris Stainton Keyboards 
After the end of the US leg of the 1979 tour ended in June, EC felt that his band had become "stale" and set out to recruit a new group of musicians.

Whereas earlier in the decade EC made a conscious decision to recruit American musicians, at the end EC went full circle, with his new "English Band".

After rehearsals, the new group played 2 debut concerts, one in Surrey on September 7th (no known recording of this show exists), and this, the second, a week before the European tour began.

The crowd was loud and boisterous, calling out to the band, and in many ways the feel of the gig is very intimate, more like a club show in some ways than a medium size hall gig.

It's a fun show, and an important document of one of the milestone changes in EC's career, albeit one that slipped in like a thief in the night.
Visitor Comments:
"I am struck dumb by the appearance of this. I was at this gig (I still have the TShirt somewhere or other!); Eric was clean-shaven and wore a smart dark blue suit for the gig - he looked like Eric the Yardbird. This was a Sunday night before I went away to University the next day; what a send-off. Eric's team decided on this gig because he'd had such a fantastic reception at this venue in 1978 and 1977 (who remembers Patti and Mrs Ronnie Lane dressed as gypsy girls dancing onstage at THAT one?). I'm going for a nice lie down now while this downloads. Nurse, the screens......................." - 'TedZeppelin', Dimeadozen