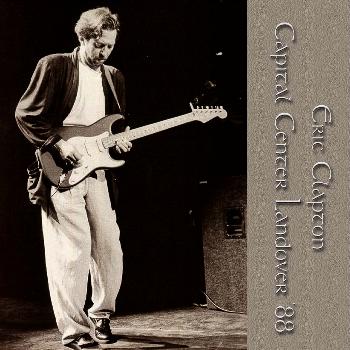 Eric Clapton - Capitol Center
Landover, Maryland - September 8, 1988 - CD-R2 - Aud 4

Disc 1:
1) Crossroads
2) White Room
3) I Shot the Sheriff
4) Lay Down Sally
5) Wonderful Tonight
6) Tearing Us Apart
7) After Midnight
8) Can't find My Way Home
9) Badge

Disc 2:
1) Same Old Blues
2) Band Introductions / Cocaine (incomplete, missing middle)
3) Interlude / Layla
4) Money for Nothing
5) Sunshine of Your Love
6) Layla (unknown venue)
7) Money for Nothing (unknown venue)
8) Sunshine of Your Love (unknown venue)

Note: My first EC show! What a great experience, seeing both my heroes, Eric Clapton and Mark Knopfler, sharing the same stage. I haven't been right since. Oh, wait ... I wasn't right before, so that isn't a good excuse. Oh, well! Great, hot performance. Solo on "White Room" is a killer, but "Same Old Blues" is the standout performance of the night. Katie never did strip for the crowd...