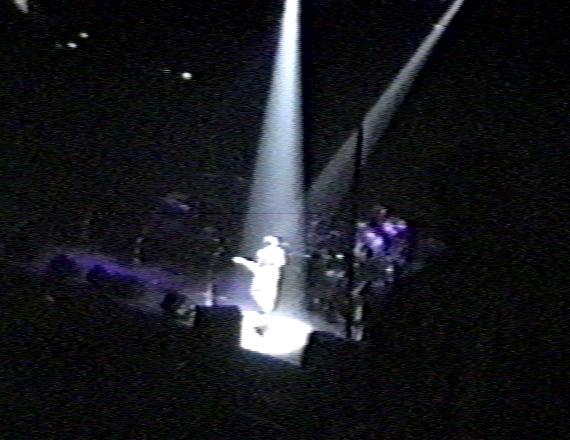 Eric Clapton With Mark Knopfler - Maple Leaf Gardens
Toronto, Ontario, Canada - October 7, 1988 - 2nd Gen VHS - 2 hours

Track List:

Crossroads
White Room
I Shot the Sheriff
Lay Down Sally
After Midnight
Wonderful Tonight
Tearing Us Apart
Can't Find My Way Home
Badge
Same Old Blues
Cocaine
Layla
Money For Nothing (Mark Knopfler)
Sunshine of Your Love
Comments: The next best thing to being there - a great audience recording! It's like being there, the show is tripod shot, nice and steady, and captures the stage lighting and the "feel" of the performance, in a way that a professional multi-camera recording can't. Filmed at the second to last performance of the 1988 North American tour, the band was in top form and having a lot of fun. Eric and Mark Knopfler trade some tasty solos on "Badge", and MK contributes some beautiful acoustic lead work while Nathan East sings a great version of "Can't Find My Way Home". Things really heat up with an incendiary performance of "Same Old Blues", when Eric and Nathan swap some licks, and Nathan plays an extended, awesome solo. Alan Alark tosses in an earthshaking solo during the "Cocaine". Very fun to watch. Sourced from the master copy. This show has also been transferred to CD-R as well as VideoCD.
Click on Thumbnail to View Larger Image

1988-10-07-maple-leaf-vhs-1.jpg
570x440x16M [38 KB]

1988-10-07-maple-leaf-vhs-10.jpg
612x462x16M [45 KB]

1988-10-07-maple-leaf-vhs-11.jpg
608x456x16M [48 KB]

1988-10-07-maple-leaf-vhs-2.jpg
558x436x16M [39 KB]

1988-10-07-maple-leaf-vhs-3.jpg
616x452x16M [49 KB]

1988-10-07-maple-leaf-vhs-4.jpg
599x452x16M [45 KB]

1988-10-07-maple-leaf-vhs-5.jpg
598x444x16M [43 KB]

1988-10-07-maple-leaf-vhs-6.jpg
576x444x16M [41 KB]

1988-10-07-maple-leaf-vhs-7.jpg
584x446x16M [43 KB]

1988-10-07-maple-leaf-vhs-8.jpg
574x448x16M [43 KB]

1988-10-07-maple-leaf-vhs-9.jpg
576x426x16M [38 KB]
---

Created by CD2HTML (© 1998 by Falk Petro)