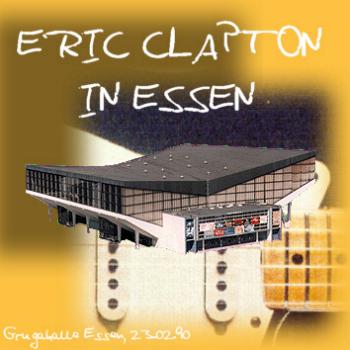 Eric Clapton - Grugahalle
Essen, Germany - February 23, 1990 - CD-R2 - Aud 5

Disc 1:
1) I Shot the Sheriff
2) White Room
3) Can't Find My Way Home
4) Bad Love
5) Before You Accuse Me
6) Old Love
7) Tearing Us Apart

Disc 2:
1) Wonderful Tonight
2) Band Intros / Cocaine
3) Jaco Pastorius Interlude
4) Layla
5) Crossroads
6) Sunshine of Your Love

Note: Transfer from LP, some clicks and pops from the vinyl source but a very good, listenable audience recording. Excellent vocal performance from EC, especially on White Room, his phrasing and vocal range are excellent. On "Can't Find My My Way Home" EC introduces Nathan East as "perhaps the worst dressed man in show business ... but otherwise impeccable." What the heck was Nate wearing? This performance also features a neat version of Sunshine - not EC's best performance, but a real neat jazzy intro to the song, and the band is really into it. The band also goes into some riff I don't recognize before the drum solo - any ideas?