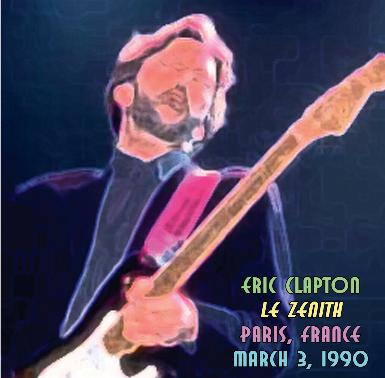 Eric Clapton - Le Zenith
Paris, France - March 3, 1990 - CD-R2 - Aud 4

Disc 1:

Pretending
No Alabis
Running on Faith
I Shot the Sheriff
White Room
Can't Find My Way Home
Bad Love
Before You Accuse Me
Old Love
Disc 2:

Tearin' Us Apart
Wonderful Tonight
Cocaine
A Remark You Made / Layla
Crossroads
Sunshine of Your Love
Geetarz Comments: A nice audience recording, quite listenable and a good performance. What does someone in the band (Ray Cooper?) sing during the drum solo in "Sunshine of Your Love"? Recording direct from taper; Master -> CD-R.

Visitor Comments: "To answer your question about what is sung during "sunshine of your love" : "Petit Papa Noel", it's a french Christmas song, very popular, made by Tino Rossi in the 40's. The weird thing is that, I was at this show, and I don't remember anything like this. Ray Cooper wasn't actually on stage (I guess it was too small for the whole band to fit, though I heard about Ray missing on some dates this year ?). Maybe it comes from March 4 show ? (I don't have this show) But I remember very well Eric breaking a string during the very first solo of the show, and I guess you can hear that at 4:20 in Pretending. So maybe the date is correct and my memory is wrong :-) "