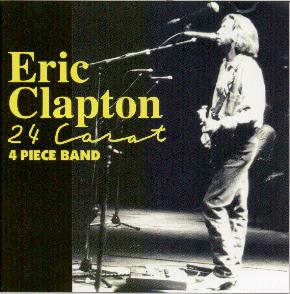 24 Carat / 4 Piece
RAH, London - February 9, 1991 - Heart Breakers HB811-1/2 - 58:30/67:23 - Aud 5

Disc 1:

Layla Orchestra Intro
Pretending
No Alabis
Running on Faith
I Shot the Sheriff
White Room
Can't Find My Way Home
Bad Love
Before You Accuse Me
Disc 2:

Old Love
Badge
Wonderful Tonight
Cocaine
Remark You Made
Layla
Crossroads
Sunshine of Your Love
Comments: There are two different "4 Piece Band" shows included in the "24 Carat" Box set. This, the February 9th show, comes with the standard CD set and is easily identified by its CD lengths (above). The "24 Carat / For Piece" February 7 show is a bonus set and not as readily available. Again, the two shows can be identified by their disc times.