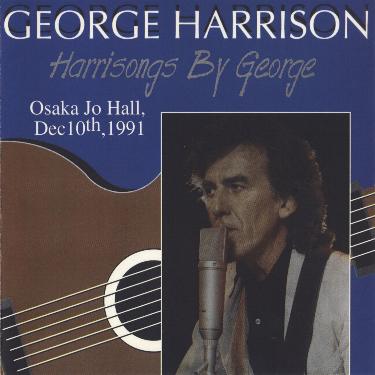 George Harrison - Harrisongs By George
Osaka, Japan - December 3, 1991 - Mistral Music - MM 9224 - Aud 3

Track List:

I Want to Tell You
Old Brown Shoe
Taxman
Give Me Love
If I Needed Someone
Something
What is Life
Dark Horse
Piggies
Got My Mind Set On You
Cloud Nine
Here Comes the Sun
My Sweet Lord
All Those Years Ago
Cheer Down
Devil's Radio
Isn't It a Pity
Comments: (Ed Petry)

Live at Osaka Castle Hall (aka Jo Hall), Osaka, Japan
- 03 December 1991 (not 10 Dec 91 as listed on the cover).

"Isn't it a pity" is incomplete and fades early, "Roll
over Beethoven" and "While my guitar..." are missing,
the latter can be found on Mistral's "Rock Legends -
Japan Tour 1991" (MM 9222/23) as bonus track (encore).

Also missing is the complete Eric Clapton part of the
show and most of the between song patter.