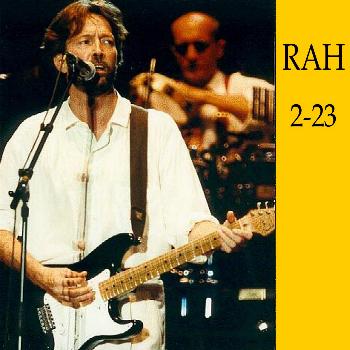 Eric Clapton - Royal Albert Hall
London, England - February 23, 1992 - CD-R2 - Aud 3

Disc 1:

White Room
Pretending
Anything For Your Love
I Shot the Sheriff
Running on Faith
She's Waiting
Circus Left Town
Tears in Heaven
Signe
Malted Milk
Nobody Knows You
Tearing Us Apart
Disc 2:

Before You Accuse Me
Old Love
Badge
Wonderful Tonight
Layla
Crossroads
Sunshine of Your Love
Comments: Transferred from a cassette source, this one is a tad rough sounding at times, but a good document of a typically agressive and well played show from the 1992 tour. There are a few, mostly minor dropouts in the tape source, but nothing major. Of interest in this performance, EC and the band give an especially long pause during the second instrumental break in "Badge" just before the second solo, which gives a different flavor to the track.