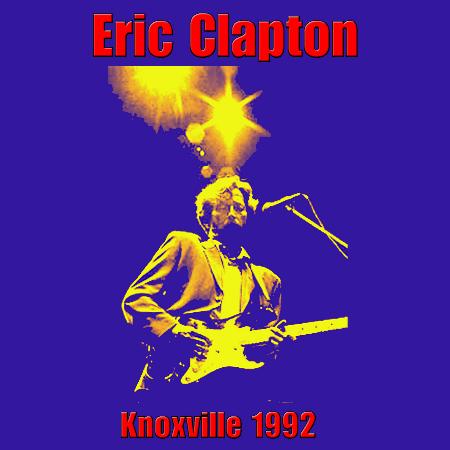 Front Cover
Back Cover
Eric Clapton - Thompson-Boling Arena
Knoxville, Tennessee - May 1, 1992 - CD-R2 - Aud 3
Disc 1:
White Room (Distortion in source)
Pretending (gap in source during song)
Anything For Your Love
I Shot the Sheriff
Running On Faith
She's Waiting
Circus
Tears in Heaven
Before You Accuse Me (tape sliding)
Tearing Us Apart
Disc 2:
Old Love
Badge (interrupted)
Wonderful Tonight (interrupted, who gives a damn?)
Layla
Band Introductions / Crossroads
Sunshine of Your Love
Geetarz' Law states that "The Best Performances Usually Have the Worst Recordings and Vicey Versa" and this is no exception. The performance easily stands out as perhaps the second best of the entire 1992 tour, and the recording is listenable but does have its share of flaws. Still, the performance is worthwhile, and contains an especially nice rendition of "Running on Faith" and a smokin' "She's Waiting" with lots of vibrato on bent strings by EC. Recommended.