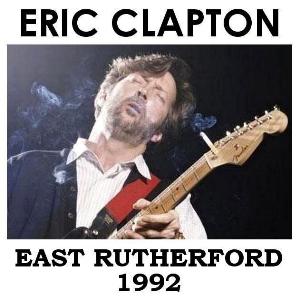 Eric Clapton - Byrne Arena
East Rutherford, New Jersey - May 8, 1992 - CD-R2 - 69:43/68:32 - Aud 4


Disc 1:
1) White Room
2) Pretending
3) For Your Love
4) I Shot the Sheriff
5) Running on Faith
6) She's Waiting
7) Circus Left Town
8) Tears in Heaven
9) Before You Accuse Me
10) Tearing Us Apart


Disc 2:
1) Old Love
2) Badge
3) Wonderful Tonight
4) Layla
5) Band Intro / Crossroads
6) Sunshine of Your Love

Comments: Stupid drunken women screech "We Love You Eric!!!" at the beginning of "Old Love" on disc 2, and just about anywhere else they feel it is warranted. Just as the Dead have a "tapers section", artists should have a section where stupid people who pay for concert tickets so they can go screech at the top of their lungs could be cordoned off from the rest of the ticket buying public. Oops, sorry about that, I had to rant for a bit - on to the review. A nice, listenable audience recording, with a bit of ambience thrown in, drums a little low in the mix but decent overall. Listenable even in spite of the screechers. Very cool - EC throws in the riff to Albert King's "Born Under a Bad Sign" on "Tearing Us Apart". A complete show.
Artwork by Kream, @2009