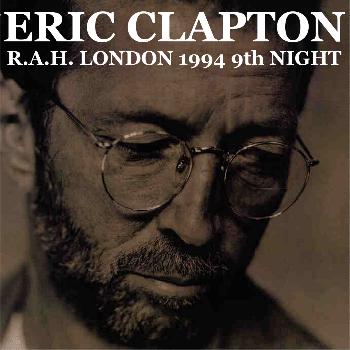 Royal Albert Hall
London, England - March 2, 1994 - CD-R2 - Aud 3

Disc 1:

Terraplane Blues
Come in My Kitchen
Malted Milk
How Long
Kidman Blues
County Jail
.44
Standing Around Crying
Going Away
Blues All Day Long
Hoochie Coochie Man
It Hurts Me Too
Blues Before Sunrise
Someday After A While
Tore Down
White Room
Badge
Disc 2:

Wonderful Tonight
Stone Free
Circus Left Town
Tears in Heaven
Five Long Years
Crossroads
Groaning the Blues
Layla
Ain't Nobody's Business
Comments: As far as EC's performances are concerned, the 1994-1995 "Blues Period" was a particular sweet spot where his level of performance was consistently at the top. This show is no execption, and the eclectic set list, a middle ground between the exclusive rock of earlier years and all-blues of the following tour, makes for interesting and varied listening. Of note, "Badge" is played at a faster tempo than usual. Overall the recording is listenable, if a bit dull sounding and in need of a little high end tweaking. Recommended.