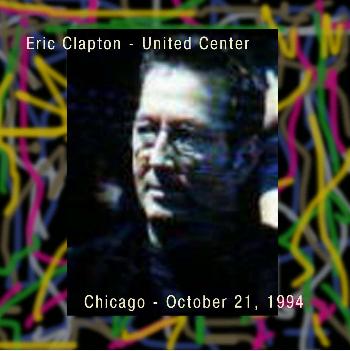 Eric Clapton - United Center
Chicago, Ill. - October 21, 1994 - CD-R2 - Aud 4

Disc 1:

Motherless Child
Malted Milk
How Long
Kidman Blues
County Jail
.44
Blues All Day Long
Standing Around Crying
Hoochie Coochie Man
It Hurts Me Too
Blues Before Sunrise
Third Degree
Can't Judge Nobody
Someday After a While
Disc 2:

Tore Down
Have You Ever Loved a Woman
Crosscut Saw
Five Long Years
Born Under a Bad Sign
Groaning the Blues
Crossroads
Ain't Nobody's Business
Sweet Home Chicago (with Jimmie Vaughan)
Comments: Begins with EC saying "I'm just going to play blues ... I am in the right place" which of course the crowd goes nuts. Also fun to hear the crowd react wildly to the line in "Kidman Blues" where EC sings 'Here I am in Chicago..."