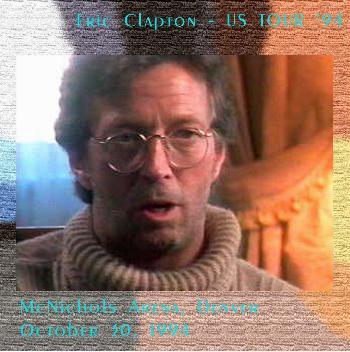 Eric Clapton - Denver 1994
Denver, Colorado - October 30, 1994 - CD-R2 - 70:08/42:40 - Aud 4

Disc 1:

Motherless Child
Malted Milk
Kidman Blues
County Jail
.44
Blues All Day Long
Standing Around Crying
Hoochie Coochie Man / It Hurts Me Too
Blues Before Sunrise
Third Degree
Sinner's Prayer
Can't Judge Nobody
Tore Down > Have You Ever Loved a Woman
Disc 2:

Crosscut Saw
Five Long Years
Crossroads
Groaning the Blues
Ain't Nobody's Business
Sweet Home Chicago (with Jimmie Vaughan)
Comments: A clean audience recording, but be warned the crowd is noisy! Complete show. Source: aAUD Master -> CAS -> CD-R.