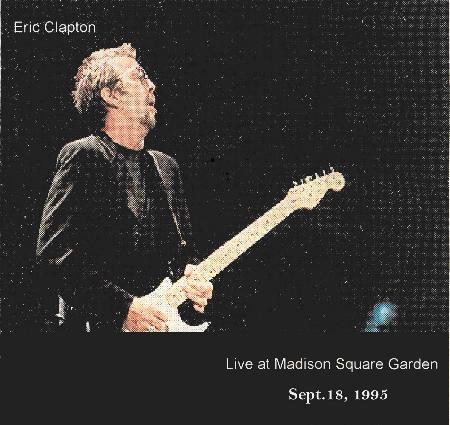 Front Cover
Back Cover
Back Cover
Eric Clapton - Madison Square Garden
New York, New York - September 18, 1995 - CD-R2 - Aud 2
Disc 1:
Motherless Children
Malted Milk>
Four Until Late
How Long
Kidman Blues
Gonna Cut Your Head
.44
Blues All Day Long
Standing Around Crying
Hoochie Coochie Man
It Hurts Me Too
Blues Before Sunrise
Third Degree
Reconsider Baby
Sinner's Prayer
Disc 2:
Every Day I Have the Blues
Early in the Morning
Before You Accuse Me
Someday After a While
Tore Down
Have You Ever Loved a Woman
Crossroads
Five Long Years
Ain't Nobody's Business
An exceptionally fine performance - even by the standards of the blues tour - but listening enjoyment is marred by a mediocre recording. As a special bonus ... the taper was surrounded as usual at Madison Square Garden by typical "asshole New Yorkers" who insist on chatting throughout the show, so any hope the listener has of ignoring the sound quality and focusing on the performance is lost. Avoid.