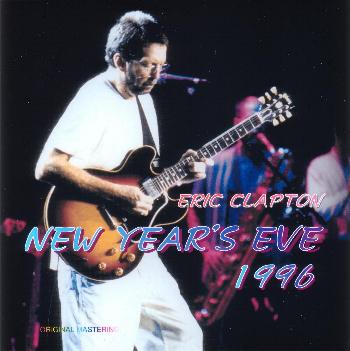 Front Cover
Back Cover
Eric Clapton - New Year's Eve 1996
Surrey, England - December 31, 1996 - ECDR-963/964 - Aud 4
Disc 1:
In the Midnight Hour
Reconsider Baby
Hoochie Cocohie Man
Knockin' On Heaven's Door
Blues Before Sunrise
Rollin' Man
Someday After a While
Cocaine
Five Long Years
Sunshine of Your Love
Disc 2:
Before You Accuse Me
Layla
I'm Tore Down
Have You Ever Loved a Woman
Lay Down Sally
Wonderful Tonight
Hardly Ever Do
Knock On Wood
It Hurts Me Too
Every Day I Have the Blues
Please note that this release is presented backwards! Disc 2 contains the first portion, and Disc 1 the last. Inferior to Men Without Legs. This performance is notable not only for its rarity (and the fact that it's one of the best Woking performances) but also because it's the only time EC has played the "Unplugged" arrangement of 'Layla' on electric guitar!