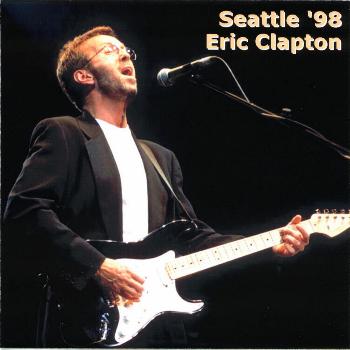 Eric Clapton - Key Arena
Seattle, WA - June 6, 1998 - CD-R2 - Aud 5

Disc 1:
1) My Father's Eyes
2) Pilgrim
3) One Chance
4) River of Tears
5) She's Gone
6) Driftin' Blues (acoustic, solo)
7) Tears in Heaven (acoustic)
8) Layla (acoustic)
9) Change the World (acoustic)

Disc 2:
1) Old Love
2) Crossroads
3) Have You Ever Loved a Woman
4) I Shot the Sheriff
5) Wonderful Tonight
6) Cocaine
7) Sunshine of Your Love (encore)

Note: Very clear, crisp recording. Some slight boominess but very listenable, wide frequency range, an excellent audience recording given the size of the venue.
Blistering solos on "One Chance" and a powerful "River of Tears". "Going Down Slow" was not performed this night.
EC blows the first solo to "She's Gone", almost like he gets lost, but makes up for it when he slams out of the gate on the second (closing) solo.
At the beginning of a great version of "Old Love", Nathan East provides a sweet, jazzy intro reminiscent of the Jaco Pastorious tribute that prefaced "Layla" in some of the Journeyman era shows.
EC's outro solo on "Sheriff" is unusually agressive, not laid back at all.
Definitely one of the better nights for "Wonderful Tonight" on the tour, Katie's always incredible vocal solo this night manages to stand this performance out from the crowd.
Alan Darby gets in a nice quote, the riff from "Layla", in his closing solo to a great version of "Cocaine."