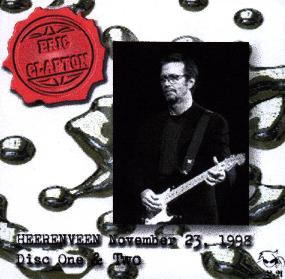 Thialf Stadium
Heerenveen, NL - November 23, 1998 - CD-R2 - Aud 6

Disc 1:

My Father's Eyes
Pilgrim
One Chance
River of Tears
Going Down Slow
She's Gone
Driftin'
Tears in Heaven
Layla
Change the World
Disc 2:

Old Love
Crossroads
Have You Ever Loved a Woman
Tearing Us Apart
Wonderful Tonight
Cocaine
Before You Accuse Me (With Bonnie Raitt)
Comments: A stunning audience recording, and one of the best shows of the 1998 tour. Recommended. This is the raw source DAT, this show has also been released as a bootleg.