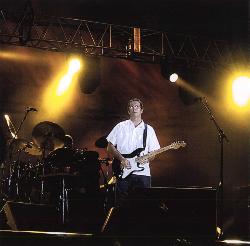 Eric Clapton - Budokan Theater
Tokyo, Japan - November 9, 1999 - CD-R2 from MD - Aud 4

Disc 1:

1) My Father's Eyes
2) Hoochie Coochie Man
3) Reconsider Baby
4) Going Down Slow
5) River of Tears
6) Pilgrim
7) She's Gone
8) Rambling On My Mind
9) Bell Bottom Blues
10) Tears In Heaven
11) Change the World
Disc 2:

1) Gin House
2) Cocaine
3) Old Love
4) Badge
5) Wonderful Tonight
6) Layla
7) Sunshine of Your Love
8) Before You Accuse Me




Note: A very clear audience recording, with just a tad of echo, great acoustics. There is a small skip in Reconsider Baby - not a glitch or digital error, just a small skip forward that is on the original master (early MiniDisc recorders were sensitive to movement). The whole show is excellent - On Gin House EC contributes a fiery solo, and moves on to a very agressive Layla. For "Sunshine" he turns the amplifier up even more and really lets loose. Sunshine has another small skip at 0:37. A great show, highly recommended.