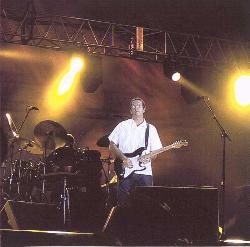 Eric Clapton - Japan Tour 1999
Osaka Jo Hall, Osaka - November 15, 1999 - CD-R2 - Aud 6

Disc 1:

1) My Father's Eyes
2) Pilgrim
3) River of Tears
4) Going Down Slow
5) Hoochie Coochie Man
6) Have You Ever Loved a Woman
7) She's Gone
8) Rambling On My Mind
9) Tears in Heaven
10) Bell Bottom Blues
11) Change the World
Disc 2:

1) Gin House
2) Cocaine
3) Old Love
4) Badge
5) Wonderful Tonight
6) Layla
7) Before You Accuse Me




Performance Notes:

An excellent audience recording (audience 6). The only thing that keeps it from being perfect is a slight bit of echo. But all vocals and instruments are exceptionally crisp and clear, well balanced in the mix, even the rhythm guitar and percussion such as cymbals, which usually suffer in an audience recording.

This is a great performance! EC seems in especially good spirits, and his playing reflects that. He really has the guitar and amplifier overdriven, and his playing is very agressive, yet tasty at the same time. A great version of "Hoochie Coochie Man" segues into an exceptional "Have You Ever Loved a Woman" - no track marker between them. An awesome "She's Gone" - one of the best performances ever.

An excellent acoustic set provides a great interlude. "Ramblin'" is great. Nathan provides a great intro to "Change the World", and the whole band really throw themselves into it, great keyboards especially. EC's vocals get real gruff in the outro chorus - a nice touch.

As with all the 1999 Japan performances, "Gin House" is a real standout. EC's incendiary slide work is awesome - slow, powerful slides and bends, interspaced with quick flatpicked runs. Not *quite* as powerful a solo as the November 8 show, but exeptional nontheless.

Dave Delhomme's keyboard solo closes out a rousing version of "Cocaine", sounding like some mutant guitar from a 5th dimension. Delhomme's keyboard work also caps off what may be one of the finest performances of "Old Love" ever. He begins his solo with a light jazz piano tone, reminiscent of Joe Sample's work on the 1997 tour, then moving into traditional B3 sounds, and the "5th dimension" guitar sound, playing both in unison. It's easy to see why EC did not find it necessary to feature two keyboard players, as he did on the Pilgrim tour - this guy *is* two keyboard players, in one package!

Unlike some of EC's recent performances where "Badge" has been somewhat uninspired, this one is quite spirited, with a nice solo. Andy Fairweather-Low is of course the "Talking GI Joe Doll" of guitar solos - when he gets his solo spot, he spits out virtually the same solo he has been playing in "Badge" since the 1992 tour. One would hope that in seven years, he could have done at least a little improvisation!

"Wonderful Tonight" may be a great version - I don't know, I fast forwarded through it. I didn't want to risk my gag reflex kicking in.

EC uses a heavy flange/phaser sound in the intto to Layla, as he used in Badge - massive sweep. His solo is very different from the powerful violin-like agressive solo on some of the other Japan dates, instead much more delicate.

The show is extrememly well paced, the "new" set list seems to work much better than the 1998 Pilgrim Tour set-list.

An excellent recording of an excellent performance - a rare combination! Highly recommended.