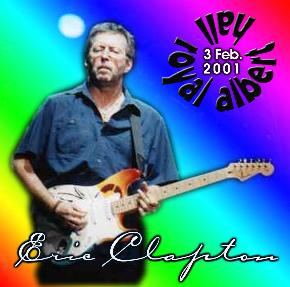 Eric Clapton - Royal Albert Hall
London, England - February 3, 2001 - CD-R2 - 65:13 / 67:10 - Aud 4

Disc 1:

Key to the Highway
Reptile
Tears in Heaven
Bell Bottom Blues
Change the World
My Father's Eyes
River of Tears
Going Down Slow
She's Gone
It's Alright
Finally Got Myself Together
Disc 2:

Got You On My Mind
I Ain't Gonna Stand For It
Don't Let Me Be Lonely Tonight
Travellin' Light
Have You Ever Loved a Woman
Badge
Wonderful Tonight
Layla
Sunshine of Your Love
Somewhere Over the Rainbow
Comments: Different from the RAH First Night, Royal Reptile Returns, or Vagabond releases. Analog source leaves some hiss but also is rich and warm, lacking the clarity and depth of the Mid Valley release but at times more intimate sounding. Begins right when EC strums his guitar at the beginning of Key to the Highway, and at 0:22 in track 1 the taper changes position slightly. Vocals have lots of reverb but instruments come through closer and clear. Cuts off sharply at the end of track 4, begins track 5 with a fade into Change the World.
<!Ryan Noyes>