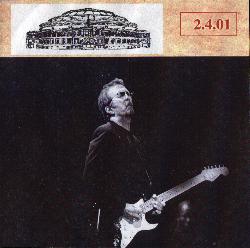 Eric Clapton - RAH Second Night
London, England - February 4, 2001 - CD-R2 - Aud 4

Disc 1:

Key to the Highway
Reptile
Tears in Heaven
Bell Bottom Blues
Change the World
My Father's Eyes
River of Tears
Goin' Down Slow
Disc 2:

Ain't Gonna Stand For It
Don't Let Me Be Lonely Tonight
Travelling Light
Hoochie Coochie Man
Five Long Years
Badge
Wonderful Tonight
Layla
Sunshine of Your Love
Somewhere Over the Rainbow
Comments: A different recording from that found on the Vagabond release, not as full-range but more intimate in some ways. "My Father's Eyes" has lost a bit of it's reggae feel, moving more towards a "swing" arrangement. EC really stretches out at the end of "Travelling Light", which is beginning to take on a real life of its own. There are multiple copies of this recording in circulation with different names and cover art, easiest just to check disc times (above) to cross reference.