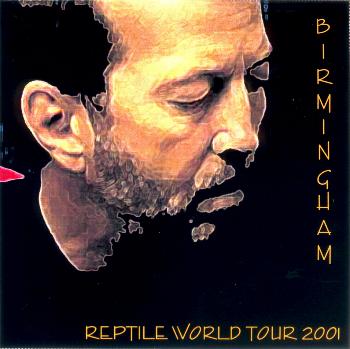 National Exhibition Centre
Birmingham, England - February 16, 2001 - CD-R2 - Aud 5

Disc 1:

Key to the Highway
Reptile
Tears in Heaven
Bell Bottom Blues
Change the World
My Father's Eyes
River of Tears
Going Down Slow
She's Gone
It's Alright
Finally Got Myself Together
Disc 2:

Got You On My Mind
Ain't Gonna Stand For It
Don't Let Me Be Lonely Tonight
Traveling Light
Hoochie Coochie Man
Five Long Years
Badge
Wonderful Tonight
Layla
Sunshine of Your Love
Somewhere Over the Rainbow
Comments: There are two seperate recordings of this show, this one is the complete of the two. Blows away the other show in terms of quality. This is a great audience recording, clear with a pleasant thump at the bottom end, tight but not boomy at all. Better in some ways, and more listenable than some audience recordings, with all the dynamics of the PA and venue involved.