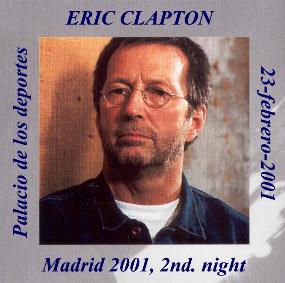 Madrid 2001 2nd Night
Madrid, Spain - February 23, 2001 - CD-R2 - Aud 4

Disc 1:

Key to the Highway
Reptile
Tears in Heaven
Bell Bottom Blues
Change the World
My Father's Eyes
Got You On My Mind
Travellin' Light
Don't Let Me Be Lonely Tonight (incomplete)
White Room
Hoochie Coochie Man
Disc 2:

Stormy Monday
Wonderful Tonight
Layla
Sunshine of Your Love
Somewhere Over the Rainbow (incomplete)
Comments: An interesting CD. Sound quality is in some ways better than the "Aud 4" rating would indicate, namely that the guitar and some other instruments are very well recorded - drums and other instruments are somewhat more buried in the mix, and missing a bit of low end. Tweaking this one with a bit more bass on playback rounds it out nicely. Track IDs are a little weird on this one - the acoustic set is all contained on one big track, with the remainder of the electric set on the first disc split up into two more tracks. An excellent performance, one of the best of the European leg of the 2001 tour - in particular a well done "My Father's Eyes", and probably the best performance of "Got You On My Mind" from the tour as well. Overall this show passed the ultimate test: "will I pull this one out and listen to it again for FUN?". Recommended.