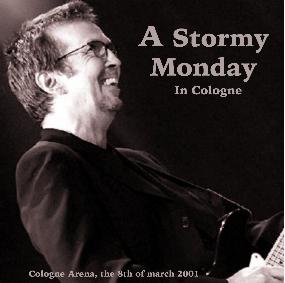 Köln Arena
Köln, Germany - March 8, 2001 - CD-R2 - Aud 4

Disc 1:

Key to the Highway
Reptile
Tears in Heaven
Bell Bottom Blues
Change the World
My Father's Eyes
River of Tears
Going Down Slow
She's Gone
Got You On My Mind
Don't Let Me Be Lonely Tonight
Travellin' Light
Disc 2:

Badge (fade in)
Hoochie Coochie Man
Stormy Monday
Cocaine
Wonderful Tonight
Layla
Sunshine of Your Love
Somewhere Over the Rainbow
Comments: There are two different recordings from the Köln Arena performance. This one is the better of the two, albeit not by much. Irrespective of recording quality, the performance is surprisingly tepid. Avoid.